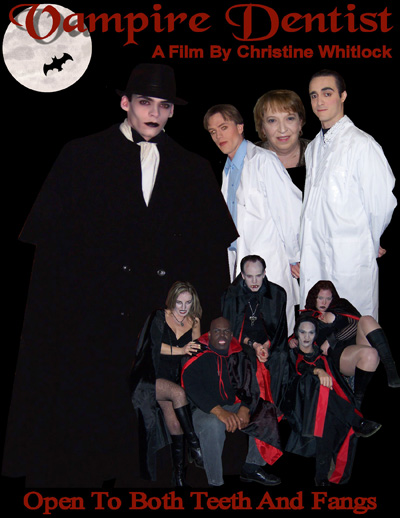 (8 1/2″ x 11″ posters now available for $5.00 – includes taxes & shipping)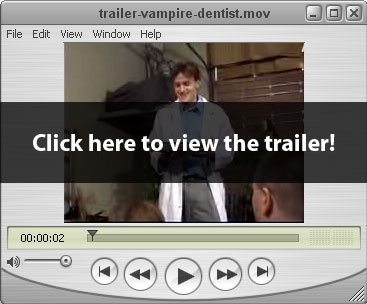 Synopsis
'Vampire Dentist' is a campy B+-style, cleavage and legs, horror-comedy-erotic no-budget feature film geared to young males 13 – 25.
After graduation, two young dentists can't get a proper position with a dental partnership or a decent practice of their own – Dr. Moe Lars because of his low marks and Dr. Pierce Able because of his bad credit rating from his compulsive internet gambling.
Auntie Mae Lars has run out of money from sending her nephew Dr. Moe Lars to dental school and now setting him up in a rundown warehouse.
Dr. Pierce Able funds his gambling with a new city incentive to give free dental care to welfare and low-income patients behind his partner's back.
After an ad for after-hours sharing of the dental location, brings a few legitimate dentists who once they see the type of street clients and working conditions run away.
After sunset, Dr. Drek Vam Dent, smooth and cold-handed, arrives and takes the dark hours dental shift.
A gang of shadow-walker vampires harasses Dr. Vam Dent as his good service attracts both good and bad vampires with all types of ailments.
Some vampires want to put the bite on Dr. Moe Lars when he comes to help the growing 'night shift'.
When Count Vam Dent brings an amulet for protection, Dr. Vam Dent decides to change some willing humans to the dark side.
Vampires aren't all bad and they protect their own against human greed.
Blending horror, humour and erotic, you'll cringe at the dental procedures and the over 40 vampire victims in 'Vampire Dentist'.
Stay tuned to the ongoing saga of the Vam Dent Family.
Watch out who you open your mouth to…
'VAMPIRE DENTIST' premiered at Mohawk College, Hamilton ON on April 28, 2006.  15 film days -
100 cast and crew.
http://www.cjcpinc.com/order-your-copy/
- we now accept Paypal.
Also on Amazon: http://www.amazon.com/VAMPIRE-DENTIST-independent-horror-feature/dp/096954328X/ref=sr_1_5?s=movies-tv&ie=UTF8&qid=1384004828&sr=1-5&keywords=vampire+dentist
VAMPIRE DENTIST was accepted in the 'Night of the Living Film Festival' – The 2nd World's First Outdoor Walk-in Horror/Sci-Fi/Fantasy Festival,  shown in Toronto ON,  on May 22, 2010.
Jury Review :
"Quirky , low budget gag-fest..insane Canuxploitation, inspired b-movie madness.. …a disturbing love child of Roger Corman, Troma, Krofft Supershow & Hilarious House of Frightenstein.."
To get on our list for script readings, actor auditions, and film updates and events, please email movies(at)cjcpinc.com.
C J CREATIVE PRODUCTIONS INC.
Hamilton Ontario Canada
B: 905/547-7135 x 1; 1-800-363-0268 x1
movies(at)cjcpinc.com