A couple and three female friends disrupt themselves
and the audience around them while watching a play.
Comedy/Drama 18 minute Gallery Mini-Series Play
by Writer/Director/Producer Christine Whitlock
Gary Smith, THE HAMILTON SPECTATOR':
'Christine Whitlock, who has been on the fringe of theatre and film-making in Hamilton long enough to know the terrain, has some sharp observations to make in her short cliched comedy "Seats At The Play." Performed at b contemporary gallery 226 James St. N.
Five area actors are the culprits here (Heather Baer, Deborah Warner, Julie Gross, Nikki Blain and Jack Verrips) and they work well as a team under Whitlock's workmanlike direction.'
Cathy Disbrow: 'This was a great show! Just saw it. Was very entertaining to watch. Those damn peppermint candy wrappers are so annoying. Ha ha! Great job Christine!! '
Judi Kruzins: 'Saw Christine's play tonight. I recommend you go. Entertaining and funny with good acting. Still on next weekend at the Fringe Festival. It's playing at the b Contemporary Gallery on James St N in Hamilton.'
b contemporary gallery
226 James St. N.
Hamilton ON L8R 2L3
(at Robert St., north of the Armouries)
Special thanks: Players Guild of Hamilton and Alert/Best Nursing & Home Care.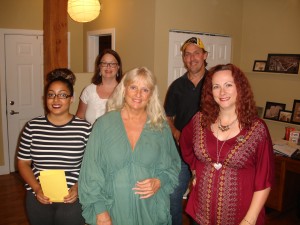 http://www.facebook.com/HamiltonFringe
@HamOntFringe